Welcome to the Kids and Cancer Benefit Run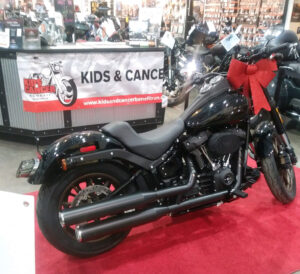 Online registration is now open
Click here to register online for the 2020 Kids and Cancer Benefit Run! Free t-shirt with online registration! Online registration closes July 10, but you can still register at the event.
If you have already registered and want to order a 2020 lighter ($30), please email kidsandcancerbenefitrun@gmail.com
---
---
Results from the 22nd Annual Run!
Here are the Raffle Winners from this year:
2019 Harley Davidson Softail Low Rider -Christy Sullivan, Bradford, PA
Trek Marlin 5 Mountain Bike – Tim Loutzenhiser, Erie, PA
2 tickets to Watkins Glenn plus $250 cash- Kristoffer Filson, Erie, PA
$250 H-D Jamestown Gift card- Daniel Nies- Cuba, New York
2 tickets to Watkins Glenn- Keri and Richard Darwin, Coudersport, PA
Congrats everyone! THANK YOU for another successful year!
---
Some Stats To Be Proud Of
With 21 years under our chaps, Kids & Cancer has granted over $500,000 in financial assistance to families and medical facilities.
Over 15,000 run participants and over 1.2 MILLION miles ridden in 21 years!
THANK YOU for helping us to help them! We could not do this without YOU!!
Thanks to the overwhelming support from the Kids & Cancer 21st Annual Motorcycle Benefit Run we are able to make our annual grants to organizations that strive to assist families during their times of need, organizations who research for a cure of childhood cancer, and other charitable organizations whose mission is to KICK CANCER'S BUTT. Here is a list of the initial grants being made:
Bradford Regional Medical Center Oncology Department
Olean General Hospital, Mildred Milliman Radiation Medicine Center
Women & Children's Hospital of Buffalo, NY
Roswell Park Cancer Alliance Foundation – pediatric services
Roswell Park Cancer Alliance Foundation – Carly's Club
American Cancer Society Relay for Life
Ronald McDonald House of WNY, Buffalo, NY
Kevin Guest House, Buffalo, NY
St. Jude Research Hospital, Nashville, TN
Children's Hospital of Pittsburgh – Pennies From Heaven Fund, Pittsburgh, PA
Shriner's Hospital for Children, Erie, PA
Wings Flights of Hope, Orchard Park, NY
Our main mission is to serve individual families during their time of need getting their child back to wellness.   Please visit the "Request Aid" tab to download the form.
---
Our Story
The Kids and Cancer Run initially started in 1998 as a way to share, with other motorcyclists, the physical beauty of our area and the freedom of "cruising" the roads in and around the Allegheny National Forest and the Kinzua Dam area in Northwestern Pennsylvania and Southwestern New York. One of the goals, of course, was to generate funds for charitable causes but also to promote the tourist attractions of the area from the biker's eye.
15,000 individuals have participated in the past 21 years. They have come from Germany, Canada, Arizona, Florida, Texas, Indiana, Nebraska, North and South Carolina, Ohio, New York, Maryland and Pennsylvania. In 2006, the Kids and Cancer Benefit committee decided to add another aspect to the activities and has sponsored a motorcycle raffle each year since then. These raffles have not only generated additional charitable contributions, but have enabled those who do not ride to become involved.
Through the generosity of Run participants and raffle tickets purchasers, Kids & Cancer Committee has been able to donate over $500,000 since 1998 to individuals, medical facilities, cancer related organizations, and various service clubs that benefit kids and their families. A grateful thank you is extended to all those who have supported or participated in our activities because it is your dollars that have helped so many.
---